PDF
Installing Content Script¶
This guide is specific to the installation of the Content Script component of Module Suite.
Module Suite installation
If you are interested in installing the full Module Suite, including all its components, please follow the Installing Module Suite guide.
In order to perform the installation of the Content Script module, you will have to follow a similar procedure to the one described in Installing Module Suite, with the following exceptions:
Deployment Phase - Select the components to be installed¶
When prompted to select the Module Suite components to install, only select the required options:
Content Script
Module Suite Extension Packages (optional)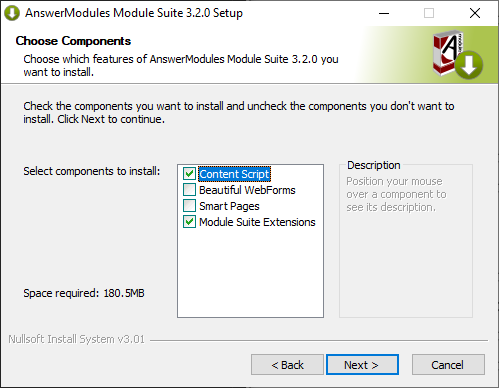 Installation Phase - Step-by-step Installation¶
When accessing the "Install Modules" administration panel, the only available Module to install will be "AnswerModules Content Script x.y.z".
Follow the installation steps for this module and restart when prompted.